Paul-Gordon Chandler - 'A movement that builds on what we hold in common'
Paul-Gordon Chandler
Paul-Gordon Chandler is an author, non-profit executive, art curator, social entrepreneur and U.S. Episcopal priest who is an authority on the Middle East and Christian-Muslim relations, having lived and worked in the Middle East, North Africa and West Africa for many years. He grew up in Senegal, and has worked extensively throughout the world in leadership roles within faith-based publishing, the arts, relief & development and The Episcopal/Anglican Church. From 2003-2013 he was the Rector of the historic St. John's Church in Cairo, Egypt.

He is the Founding President of CARAVAN, an international peacebuilding NGO that is focused on building bridges through arts between the creeds and cultures of the East and West. The author of several books, his newest title is IN SEARCH OF A PROPHET: A Spiritual Journey with Kahlil Gibran, in which he looks at the all-embracing spirituality of the early 20th century Lebanese poet-artist and mystic, Kahlil Gibran, best known as the author of The Prophet.

Paul-Gordon, you grew up in Senegal rather than your home country the United States. On reflection, what gifts did Senegal give you growing up?

Yes, I consider it an inestimable privilege to have been able to spend the first 18 years of my life in Senegal, West Africa, which I see as one of the most beautiful, welcoming, fascinating, tolerant, creative and colourful places in the world. And in so many ways, my experience in Senegal, which I still see as home, laid the foundation for who I am and what I do.

A few particular areas come to mind that have been tremendous gifts. Growing up in a culture other than the one my parents were from made me what sociologists call a "third culture person," meaning someone who doesn't fully identify with their family's culture of origin or the culture in which they are raised. Rather they in a sense form a "third culture," finding their identity in multi-cultural contexts. My best friends growing up were either Senegalese or Lebanese. Therefore, I find myself most at home when I am a minority, which bodes well for the multi-cultural and interreligious work in which I am involved.

I was also raised in a minority Christian family in a Muslim-majority context, that was largely related to Sufi brotherhoods. So naturally my closest friends where Muslim. Yet as a teenager, I remember beginning to observe among adults, a tension and distrust between the two - something we youth knew nothing of. And I remember thinking back then that there had to be another way. And this slowly became a personal passion, that of discovering ever more effective ways of building bridges between Christians and Muslims, and between the cultures of the Middle East and West.

The other gift Senegal gave me was a love for art and culture. Senegal is often considered the artistic capital of West Africa. It's known widely for its poetry, thanks to its first president, the poet laureate Léopold Sédar Senghor, visual art, storytelling through its griot tradition, and music, a genre called Mbalax, made popular globally by singers, songwriters and musicians like Youssou N'dour, who grew up in the neighbourhood next to ours.
You are a US Episcopal priest who has lived for many years in predominantly Muslim countries. Is there something from that religion that you believe Christians can learn from?

I am learning from my Muslim brothers and sisters all the time. When I lived in Tunis/Carthage, Tunisia, I fell in love with the mosaics of Roman antiquity. I often see all this like a beautiful "divine mosaic," with each piece being a different spiritual and cultural expression - seeing the whole mosaic, with all these diverse pieces in place, portraying the beauty of God, the Transcendent, as nothing else can. In my experience, it is only in the continual learning from these different spiritual and cultural expressions that our own faith and life can be made most complete.

Early on, as a child, albeit coming from a Christian family, I remember being taught to love the call to prayer throughout the day in Senegal, to take advantage of it to remind oneself of our Creator throughout the day. There is no other culture anywhere in the world as that of our Muslim brothers and sisters where we can be reminded of being dependent on God five times a day.

I have also benefited from the spiritual emphasis of pilgrimage in Islam. I have come to see it as absolutely critical that when Christians and Muslims (or from any spiritual tradition) relate to each other, that we all see ourselves first and foremost as pilgrims - journeying in life and toward God - and not having arrived. Much of our own religious traditions teach us that we "arrive" – giving a sense of finality to it, where borders are put on beliefs. But instead, I think it is much more accurate to say we are a "people of pilgrimage." And a pilgrim is someone on the move, always journeying, and therefore more open to asking others for directions, meeting new people - even asking each other for help on our journey of trying to live the life God desires us to live. It is a certain attitude, a spirit of openness, gentleness, and of willingness to grow in our spiritual journey, regardless of what or where it comes from.

I think the early 20th century Lebanese born poet-artist and mystic Kahlil Gibran writes about this quite profoundly and eloquently: "You are my brother [and sister] and I love you. I love you worshipping in your church, kneeling in your temple, and praying in your mosque. You and I are all children of one religion, for the varied paths of religion are but the fingers of the loving hand of the Supreme Being, extended to all, offering completeness of spirit to all, anxious to receive all."

I am not sure it can be said better than that.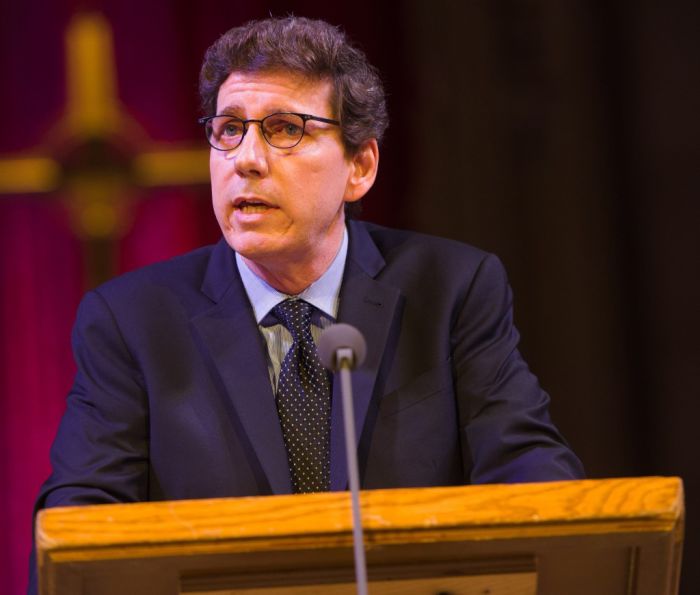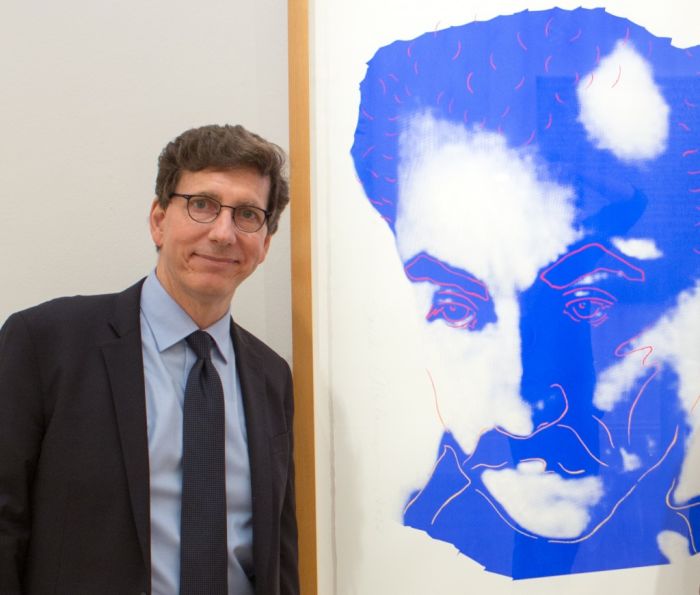 You started CARAVAN- a peacebuilding NGO that uses the arts to build bridges between the East and West. CARAVAN exhibitions have gone on to tour the world. The visual arts speak almost universally, but how does art investing and academia distort what artists make?
Yes, CARAVAN's experience has demonstrated that the arts can serve as one of the most effective mediums to enhance understanding, bring about respect, enable sharing, and deepen friendships between those of different cultures and faiths. As Kahlil Gibran, reminded us: "We have forgotten—or have we?— that there is but one universal language and that its voice is art." CARAVAN exhibitions have resulted in unprecedented gatherings of renowned and emerging Middle Eastern and Western artists using art for peacebuilding and bridge-building purposes.

Art investors are great for the art world, supporting the entire industry, and since they are varied in terms of both what they invest in and their financial capacity, I think they are too diverse to really exert a substantial influence over contemporary artistic output. As has always been the case, once an artist is established and seen as a "sure bet," the temptation for that artist is to alter their work to maintain a lucrative status.

If "academia" refers to art critics, I think it is debatable what their impact is on artists and trends overall. There seems to be less importance placed on the views of critics than was once the case but their role in art is absolutely essential. They are critical in keeping the conversation going about art, culture and its place in society. Curators have become more central to the whole industry and it is their direction that has led to an increase in art that reflects social justice, political and environmental issues in our complex world.
Your book

Pilgrims of Christ on the Muslim Road, which looks at the life of the Syrian writer Mazhar Mallouhi, who self-identifies at a "Sufi Muslim follower of Jesus,"illuminates the similarities and essential unity of the Abrahamic religions. Do you think the converse desire to dwell on differences as a substitute for real insight is something encouraged more these days?

At a time where misunderstanding and misrepresentation have all-too-often become the new norm, I believe our day calls for a new kind of movement: not of belief, religious unity or cultural uniformity, but rather quite simply, a movement that builds on what we hold in common.

When I think of the Abrahamic faiths, I love to use the crescent, the Islamic symbol of faith, as an illustration. Whenever we see a crescent moon (thanks to the reflection of the sun), it means that the majority of the moon is dark. I liken the slim crescent to what we have different between us, and the dark side to all that we have in common. And more than ever, I believe it is critical that we build our relationships with each other on the "dark side of the moon" (you could say, "à la Pink Floyd"). We are too often so blinded by the constant illumination of our differences, that we can't see all we have in common.
Your latest book on Kahlil Gibran,

In Search of a Prophet: A Spiritual Journey with Kahlil Gibran,

celebrates his spiritual message. What are the things you have received from Gibran that you use in your everyday life?

My book is a journey into Kahlil Gibran's all-embracing spirituality. More than ever I think there is a need to hear voices that call us to unity and respect, and to be inspired to live deeply and generously in our thinking and actions toward the "other," whomever the "other" is. And I believe Kahlil Gibran can be just that voice, and his profound insights can offer our day much needed wisdom and guidance - which is why I wrote the book. In Gibran I found a spiritual compatriot.

Gibran's prophetic voice is a direct result of his continual search of greater interior depth. "The soul is mightier than space," he said, "stronger than time, deeper than the sea, and higher than the stars." Gibran was preoccupied during his entire life with the depths that he knew the spirit of humanity was able to plumb, always striving toward a deeper dimension. And the beauty of his life is that the deeper he went, the wider his embrace became, cutting through all divides, reaching across to the "other."

The depth of Gibran's spiritual journey led to an extraordinary breadth of spirit in which he experienced the oneness of humanity. The reservoirs he had cultivated in "the deep" gave him the capacity to go "wide." Arising from his internalized bridging of the Eastern and Western influences of his life, a faith emerged over time that transcended all cultures and religions. I love the way he expressed his collective embrace of humanity with the poetic visual imagery of a cloud. He wrote: "Should you sit upon a cloud you would not see the boundary line between one country and another, nor the boundary stone between a farm and a farm. It is a pity you cannot sit upon a cloud." (from Sand and Foam).

In today's climate of increasing prejudices and stereotyping, which often leads to a dehumanizing of the "other," whether in worldviews, words or actions, Gibran shows us a way forward. Some have likened what I am doing with Kahlil Gibran to what Coleman Barks has and is doing with Rumi, bringing him to life for today. I consider this a tremendous compliment, and I believe that Gibran's writings are more timely today than even during his life-time. I also think that Gibran's worldview and spiritual philosophy resonates deeply with the worldview of many younger people today. This is largely why I wrote the book, to re-present Gibran to a new generation, and why I dedicated this book to my two children.
Website: www.paulgordonchandler.com
CARAVAN website: www.oncaravan.org