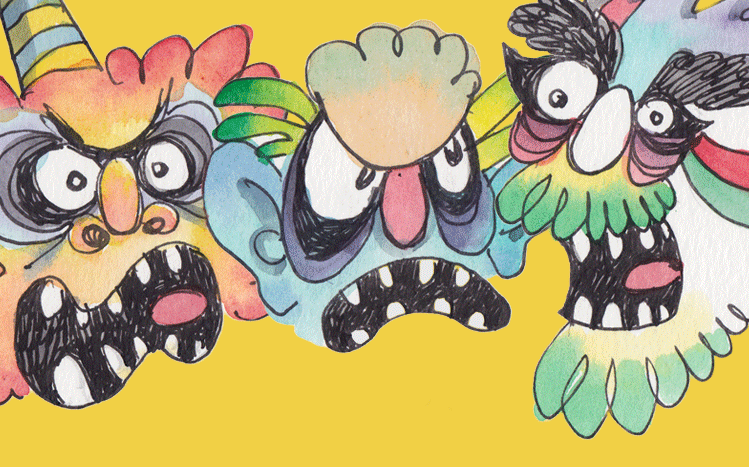 If you can draw a really scary, dastardly, horrible Dib Dib in time for Halloween, then this is the competition for you!
What's a Dib Dib, you may ask?
Well, Dib Dibs are spooky phantoms, and they have a way of getting into people's heads and turning even adults into quivering bowls of jelly.
They have been around for a very, very long time – and then double that!
Some of the most horrible Dib Dibs feature in a story by the famous Afghan writer, Idries Shah. If you want to get an idea of what those Dib Dibs look like you can read the story here and you can also watch an animated version below.
Then imagine your own Dib Dibs and draw or paint them.  Make them scary, but please not too gory or repulsive.  In other words, your Dib Dibs should be scary enough to make your granny go "Eeeek!" but not faint!
Get a parent or carer to help scan or photograph your artwork and send it to The Idries Shah Foundation at this email address: competitions@idriesshahfoundation.org.
Make sure your entries reach us by 23:00hrs UK time on October 24th 2022. We'll also need your parents to complete this consent form and email it along with your entry. Remember that if you don't attach a completed form to your email, then we won't be able to consider your entry.
There are two age categories for the Horrible Dib Dib Competition:
Category One is for anyone aged between 4 and 7
Category Two is for anyone aged 8 to 12
The competition is open to entrants from any country in the whole wide world and submission is free of charge.
There will be 3 winners for each category.
We'll announce the winners on Halloween, October 31st 2022.
Now for the prizes!
Each winner will receive:
a $25 Amazon gift voucher
a pack of 48 Faber-Castell colouring pencils
a Altair Design – Islamic Patterns: Geometrical Colouring Book
a hardback limited edition copy of The Horrible Dib Dib by Idries Shah
AND we'll donate some hardback copies of Idries Shah's children's books to the six winners' school libraries (provided you send us the school's address).
We'll publish the winners on our website and on our social media accounts. And we'll probably publish some of the runners-up, too!
Now get drawing and painting those horrible Dib Dibs!
Here are some other rules:
Copyright Policy
Copyrights According to UK law – artists retain copyrights of their work. By submitting to this opportunity, the Artist grants his/her unconditional acceptance and permission for the use of his/her personal and artwork's image and data by the organizer, cooperative service providers, and allow publication and circulation of his/her provided materials and information in all advertising and promotional media both in print and digital.
Originality and Rights
Artworks must be entirely the work of the entrant, executed without the supervision of an instructor. Entries must not be copies or derivatives based in any way on other copyrighted or published paintings, photographs, or other artistic work. Any infraction of this rule will result in serious consequences.
Artist should have all the rights for presenting and publishing the artworks internationally.